A Guide to Retirement Care & Senior Living in Guelph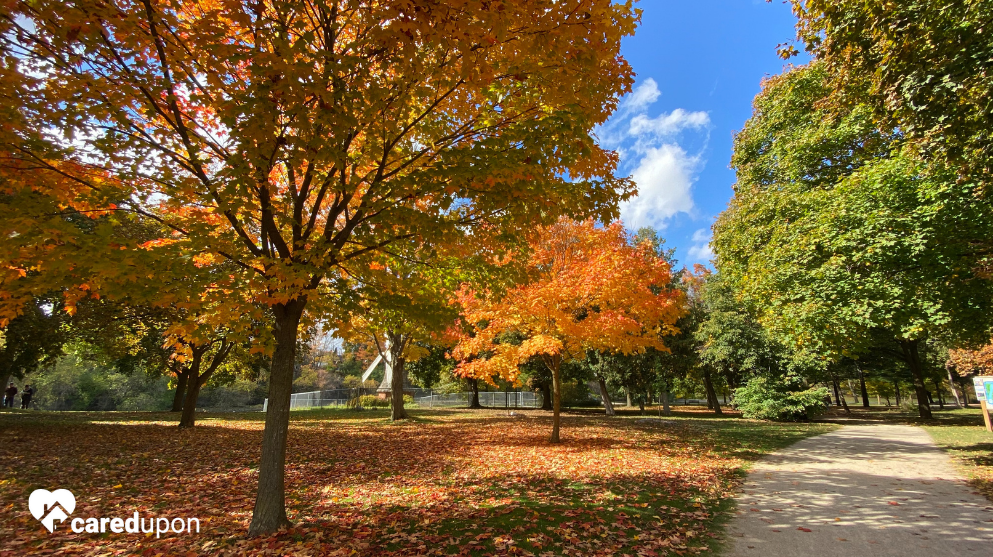 As one of Canada's most densely populated cities, Guelph is a vibrant city filled with rich Indigenous history. Known for its limestone architecture, variety of breweries, and being home to Basilica of Our Lady Immaculate (a national historical site of Canada), many seniors are drawn to Guelph as it offers a quaint lifestyle and a unique set of opportunities for staying active and engaged after retirement. If you're thinking about retirement in Guelph, Cared Upon is here to help you find a community that's right for you. 
Lifestyle & Activities
Seniors retiring in Guelph can find a wide variety of outdoor spaces to explore and partake in recreational activities such as fishing, sailing, swimming, biking, camping, and picnicking. Many locals also enjoy spending time in the Guelph Lake Conservation Area, especially during the warmer, as it is one of the more popular reservoirs to do outdoor activities at. For older adults that enjoy walking and visiting the city centre, you can find yourself visiting the Guelph Civic Museum or the Art Gallery of Guelph to view the large collections of art and artifacts that the galleries have to offer. Seniors who want to meet other like-minded older adults in the community can also visit local senior activity centres that provide activities such as yoga, line dancing, pickleball, tennis, and shuffleboard. 
Weather and Climate
Guelph has a cold and temperate climate, with warm and comfortable summers and harsh, freezing winters. Over the year you can find partly cloudy weather with a significant amount of rainfall. You can expect average temperatures during the winter to range anywhere from -9°C to 3°C (15.8°F-37.4°F), with occasional cold spells that can reach up to -20°C (-4°F). During the summertime, you'll find the average temperature to sit at around 25°C (77°F).  
Housing Options in Guelph: Finding the Right Fit for You
You may find that as you age, your home care and retirement needs will change. From assisted living to adult lifestyle communities, Ontario offers seniors a range of housing options to fit their lifestyle and health needs. Although the location of your retirement community in Ontario will directly affect the cost, you can typically expect the cost of assisted living to start at $2000-$3000 per month. 
Although a large portion of retirement housing is privately owned and paid for, the government allows you to claim the costs of nursing homes or long-term care facilities through the Medical Expense Tax Credit (METC). Depending on the type of care you require and the facility you choose to call home, you can choose to claim for the costs which will be determined by your personal income. To learn more about the Medical Expense Tax Credit, visit the GGFL website. 
Cost of Retiring in Guelph: Budgeting and Financing
In terms of retirement budgeting, you'll find that the cost of retiring in Ontario will vary depending on the city you choose to settle down in. For example, as Toronto is one of the most vibrant and liveable cities in all of Canada, you may find that the cost of living is higher than the national average. However, seniors living on a low to moderately low income wishing to retire in Ontario may be eligible for various income support programs.  
Ontario Trillium Benefit (OTB): The Ontario Trillium Benefit is a program that provides eligible seniors with payment from a combination of the Ontario Energy and Property Tax Credit, Northern Ontario Energy Credit, and the Ontario Sales Tax Credit. 
Government Funding 
Seniors residing in Ontario may also access several federally provided financial resources to help them prepare and pay for their retirement. If eligible, you may access funding through federal programs such as the Canadian Pension Plan Retirement Pension (CPP), Guaranteed Income Supplement (GIS), and the Old Age Security Pension (OAS). For more information on Government contributions and your eligibility, visit our care blog. 
Post-Retirement Income Sources
For seniors not eligible or looking for government funding, there are several different ways they can look to fund their retirement.  
Registered Retirement Savings Plans (RRSPs) and Tax-Free Savings Accounts (TFSAs): Using a Registered Retirement Savings Plans (RRSPs) or a Tax-Free Savings Account (TFSAs) you may save up for your post-retirement income, which will be dependent on the amount put into these accounts when you first began saving and the interest you received. 
Investment accounts: Taxable investment accounts, such as stocks and bonds, is a more common form of saving up for a post-retirement income source.  
Employer-sponsored pension plans: You may be eligible for an employer-sponsored pension plan through your employer. This plan involves your and your employer contributing money towards your retirement over the course of your employment. 
To learn more about your post-retirement income source options, visit our resource centre. 
Access to Healthcare
All residents of Ontario must sign up with the Ontario Health Insurance Plan (OHIP) to receive free health care and health services. As health care is publicly funded, under OHIP residents are entitled to coverage on health services such as visits to their doctor, hospital stays, medical surgeries, dental surgeries, ambulance services, eligible optometry services, and even travel for health-related services. While these are the standard services covered under OHIP, seniors 65 and up receive extended coverage on optometry services and prescription medication. You can find information on extended prescription medication coverage through the Ontario Drug Benefit program (ODB) on the Ontario Ministry of Health website.  
Additional Resources
For further information, you can visit and/or contact these sources: 
Ontario Senior Living Guide: A comprehensive guide to all things senior living and program-related in Ontario. 
Telehealth Ontario: Call 1-866-797-0000 Toll-free to get access to a confidential health information line. 
---