A Guide to Retirement Care & Senior Living in Edmonton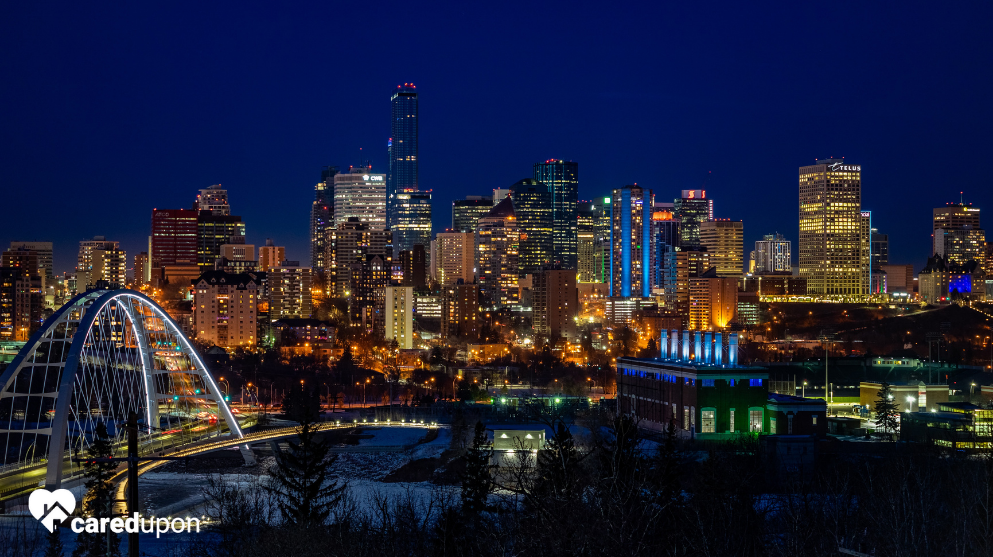 With a high average of sunny days, lower tax rates, and great levels of support for their senior population, many older adults find Edmonton to be an ideal city for retirement. The city is home to a thriving arts scene with a wide variety of restaurants, shopping centres, parks, and senior centres for their senior population to explore. On top of that, citizens are offered a comprehensive health care system that focuses on providing quality health care to promote independent living for seniors for as long as possible. Whether you are looking for a retirement community in the heart of the city or one away from the city buzz, let Cared Upon help you discover if Edmonton is the right fit for your care needs.  
Lifestyle & activities
With over 50 annual festivals and home to North America's largest shopping centre, seniors that enjoy a more vibrant city lifestyle may find retiring in Edmonton appealing. The West Edmonton Mall not only offers over 800 stores to shop in, but also a skating rink, swimming pool, sea lion show, and an amusement park to explore. For seniors interested in the cultural arts scene, you can find yourself exploring the city's art scene at the Edmonton Arts District to find a variety of cultural exhibitions, museums, and theatres to visit. With a growing senior population, Edmonton senior centres also make for a wonderful way for older adults to connect with like-minded individuals and participate in recreational activities. 
Weather and Climate
Edmonton has a humid continental climate with dry and hot summers, and long, freezing winters. While the city experiences a high average of sunny days annually, Edmonton weather is notorious for being unpredictable, as you can also find higher levels of precipitation throughout the year. You can expect average winter temperatures in the city to range anywhere from -15 to -4°C (5-24°F), with extreme lows of up to −49 °C at times. On the other hand, summers are warmer and drier, with average temperatures ranging anywhere from 20-30°C (68-86°F). 
Housing options in Edmonton: Finding the Right Fit for You
Whether it's assisted living or a retirement community, Edmonton offers its senior residents a variety of reliable and affordable options to choose from when it comes to their care needs. While you can expect the cost of assisted living to typically start from $2000-$3000, the Alberta government works with numerous non-profit organizations and housing providers to offer subsidized options to choose from. If eligible, programs such as the Rent Supplement Program, Seniors Self-contained Housing Program, and the Seniors Lodge are designed to help subsidize the cost of retirement care based on your personal income.
Rent Supplement Program: The Rent Supplement Program was designed to subsidize the cost of housing for those needing both long and short-term assistance with rent. The Rent Assistance benefit is a long-term benefit program that offers low-income Albertans direct payments to their tenants to cover the cost of rent, with the coverage amount being individually calculated depending on both the local market rent and your household income. The Temporary Rent Assistance Benefit is a short-term benefit offering support to Albertans that are working on improving their current income situation or are not currently receiving support through benefits such as the Alberta Seniors Benefit. Similar to the Rent Assistance benefit, those eligible will receive support for covering their rent paid directly to their tenants. However, those receiving the Temporary Rent Assistance Benefit may only receive support for up to 2 years.
Seniors Self-contained Housing Program: Functionally independent seniors, regardless of whether they require assistance from community-based services, are offered apartment housing at a reduced cost based on 30 percent of their household-adjusted income through this program. Their subsidized rent also covers basic needs such as sewer, water, and heat expenses.
Seniors Lodge: Seniors that do not require specialized health care may be eligible for the seniors' lodge program, which offers rooms, meals, and housekeeping services for those 65 and up. Lodge rates may vary depending on each housing provider, however, all seniors participating in the program must be left with a minimum disposable income of $322 per month.
Cost of Retiring in Edmonton: Budgeting and Financing
Depending on the care you require and your personal lifestyle, the cost of retiring in Edmonton can vary. However, Alberta is often noted for having one of the lowest costs of living in all of Canada - including lower costs for housing, taxes, and leisure activities. When it comes to senior support for finance and budgeting during retirement, the Alberta government offers assistance with monthly expenses to those needing additional help.
Alberta Seniors Benefit: Seniors making an annual income of $29,285 or less (or $47,545 for senior couples) are entitled to a benefit that is determined by a number of factors. Your income, your type of accommodation, your marital status, and whether you are receiving the Old Age Security pension will determine the amount of support you will receive under this program. Additionally, If you are a new Alberta resident, you may receive these benefits in the month of your 65th birthday, or 3 months into your permanent residency in Alberta.
Special Needs for Assistance for Seniors: Low-income seniors making $29,285 or less annually are entitled to up to $5,105 per year to help cover the cost of health and specific personal items. For senior couples to be eligible, the household income made annually should be $47,545 or under. This program helps older adults cover the cost of items such as appliances, furniture, health support, or personal support. While health support can cover the cost of certain prescriptions, personal support covers the cost of services such as housekeeping, yard maintenance, medical trips, respite care, and more.
Seniors residing in Alberta should receive a package in the mail six months before their 65th birthday outlining every program they are eligible for. For more information on eligibility and benefits, visit the official Alberta website.  
Post-retirement Income Sources
For seniors not eligible or looking for government funding, there are several different ways they can look to fund their retirement. 
Registered Retirement Savings Plans (RRSPs) and Tax-Free Savings Accounts (TFSAs): Using a Registered Retirement Savings Plans (RRSPs) or a Tax-Free Savings Account (TFSAs), your post-retirement income is dependent on the amount you put into these accounts when you first began saving and the interest you received.
Investment accounts: More commonly, many older adults turn to taxable investment accounts, such as stocks and bonds, as a post-retirement income source. 
Employer-sponsored pension plans: If offered by your employer, you may be eligible for an employer-sponsored pension plan. This plan involves your and your employer contributing money towards your retirement over the course of your employment.
To learn more about your post-retirement income source options, visit our resource centre.
Access to Healthcare
Alberta's Health Services is known for its philosophy of offering health care that allows seniors to live independently at home for as long as they possibly can. All residents of Edmonton must register with the Alberta Health Care Insurance Plan to receive coverage for health care and health services, such as medically required services and certain hospital services. However, the Government of Alberta supports their senior population by providing additional, premium-free health coverage to costs not insured under the Alberta Health Care Insurance Plan for seniors 65 and over. 
Coverage for Seniors Program: The Coverage for Seniors program covers additional health services such as specific prescription drugs under the Alberta Drug Benefit List, home nursing care, clinical psychological services, and chiropractic services. 
Dental Assistance for Seniors: Eligible seniors aged 65 and older are entitled to dental coverage of up to $5000 towards their dental services every 5 years.
Optical Assistance for Seniors: Every 3 years, eligible seniors are offered up to $250 in funding to cover the cost of optical services. This also includes and covers the costs of lenses, frames, and prescription glasses. 
Home Nursing Care: Seniors eligible are given up to $200 annually to cover the cost of physician-referred nursing care from the senior's home. 
Additional Resources
---